Buddhist festivals, known as tsechus, are the highlight of any trip to Bhutan. Tsechus, which take place in dzongs and local temples, are an important feature in the religious calendar of each district in Bhutan. They often last for several days, with monks, dressed in elaborate costumes of silk and brocade and wearing painted masks, performing religious dances called Cham.  Dancers are accompanied by musicians playing Tibetan horns, flutes and cymbals.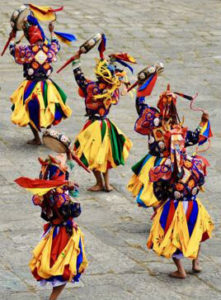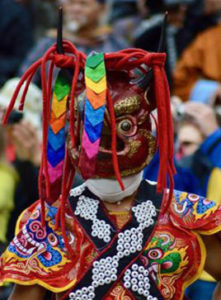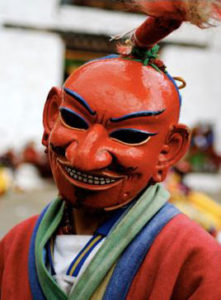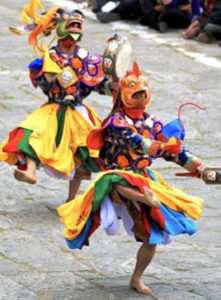 The Cham dances are interspersed with folk dances, performed by local people in traditional dress, while clowns, known as Atsaras, keep the crowds amused with their fooling around. Tsechus are a big draw for tourists but they are, first and foremost, religious festivals, much revered by the Bhutanese.
At each of the main tsechus, a special ceremony is held early in the morning of the last day, with the unfurling of a large appliqué banner (called a thongdrel). Unrolled before dawn, the thongdrel typically depicts Guru Rinpoche and the Bhutanese believe that just seeing this precious image will cleanse them of their sins.
The largest and most popular tsechus take place in Punakha, in February/March; in Paro, in March/April and in Thimphu and Bumthang in September/October. The exact dates vary each year, depending on the lunar calendar. Flights and hotels are in high demand at these times so it is important to book well in advance and to be prepared for the crowds, which, of course, add to the atmosphere of the occasion.
For visitors who want to get off the beaten track, there are numerous local festivals, where you may be the only tourist there.  Contact us for more details and to plan your festival tour.