The trek is 10 nights/ 11 days, and follows the first third of the Snowman Trek route from Paro to the village of Laya, with its unique culture, language and dress. The trek route then turns south, finishing at Gasa, in the Punakha Valley. We will pass through several villages, where most of the people are yak herders and we expect to see yaks, blue sheep and marmots along the way.
Please note that this trek involves some long days of walking and crosses several high passes. Detailed trek notes, with approximate distances and walking times, follow below. A good level of fitness is essential.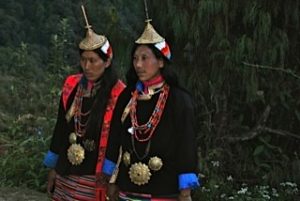 Day 1: Drive Paro to Shana.
Trek Shana – Soe Thangthangkha: distance/walking time 18 km/6-7 hours.
We will drive to Drukgyel Dzong, at the end of the Paro valley and then on a farm road through a narrowing valley of paddy fields, passing many traditional farmhouses along the way. We will start the trek at an army outpost at an elevation of 2,890 m, after meeting our horses and trekking crew.
From the army camp, we set off uphill following the river and through the valley, which gradually narrows and closes in. The trail forks, with the left hand track leading to Tibet. We stay on the right, flowing the trail past a large chorten, not far from our first night's camp.  The campsite is located in a meadow with a stone shelter, from where the summit of Mt Jhomolhari is visible on a clear day.
(Overnight at Camp) Camp altitude 4,040 m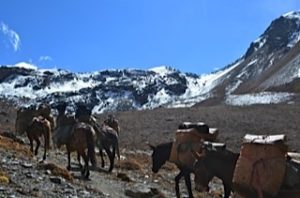 Day 2: Soi Thangthangkha – Jangothang: distance/walking time – 17 km/5-6 hours.
The day starts with a gradual climb as the vegetation turns alpine, until the landscape opens up into a wide high valley.  We pass by another army camp, where our trekking permit will be checked. We are surrounded by high ridges and snow-capped mountains all the way to Jangothang. We may come across yaks and yak herder camps.  At the village of Dangojang, there is a small school with about a dozen students and another forty minutes brings us to Jhomolhari Base Camp, known as Jangothang.
From Jangothang, there are stunning views of Mt Jhomolhari and Jitchu Drake, both imposing snow-covered peaks. The campsite is overlooked by the ruins of an ancient dzong.
(Overnight at Camp) Camp altitude 4,040 m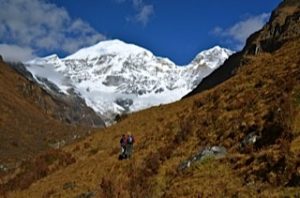 Day 3: Jangothang halt 
Today is an acclimatisation day. Many yak trails weave along the sides of the valley that leads to the base of Mt Jhomolhari. We will climb up the moraine to a ridge overlooking the glacier that snakes down from the mountain. The hike up the valley to see the glacier takes 5-6 hours return and we will have a picnic lunch on the way.
(Overnight at Camp) Camp altitude 4,040 m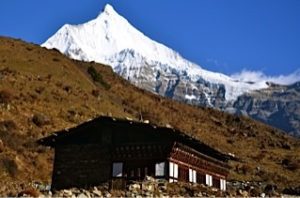 Day 4: Jangothang – Lingshi village: distance/walking time – 21 kms/ 5-6 hours.
Today, we have a steep climb into a high basin, from where the trail levels for a while, until the start of a long climb to the Nyile La pass at 4,890m. After the pass, from where there are stunning views, there is an easy descent into Lingshi basin. The vegetation is sparse and, as we approach Lingshi, there is a wide panorama across to Lingshi dzong, Mount Tserim Kang and its glaciers to the north. We camp next to the river in the valley bottom.
(Overnight at Camp) Camp altitude 4,150 m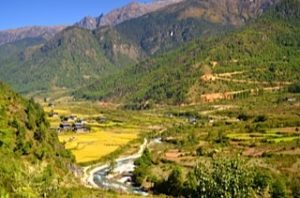 Day 5: Lingshi village – Chebisa village: distance/walking time – 16 kms/4-5 hours.
It is a steep 45 minute climb from our camp next to the river to Lingshi dzong and the village of Lingshi where we will wander through the village. There is a Basic Health Unit and a school here.  From Lingshi, the trail meanders high along the valley sides, through alpine pastures where we may see the elusive Himalayan blue sheep. We pass the village of Goyul and an ancient dzong. Depending on our timing, we may take lunch in a farmhouse in Goyul village. Trekking high above the valley, we reach a small pass from which the settlement of Chebsia is visible.
(Overnight at Camp) Camp altitude 3,990 m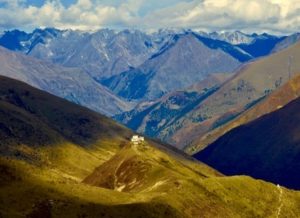 Day 6: Chebisa village to Shakyapasang: distance/walking time – 14.5 km/ 5-6 hours.
From Chebisa village we start the day with a steep 450 m climb. We will cross the Gombu La pass at 4440 m, from where there are spectacular views back towards Lingshi.  The descent from the pass takes us down towards forested slopes to tonight's camp by the river.
(Overnight at Camp) Camp altitude 4,000 m
Day 7: Shakyapasang to Robluthang: Distance/walking time – 16kms/ 7-8 hours.
Today we have a climb of about 200m before the trail levels out for some time. Another short ascent to the Jare La pass brings us to 4,785 m, about three hours after leaving last night's camp. Several snow-clad peaks are visible from the pass on a clear day. This is prime yak-grazing land and we may see herds of yaks on our way to camp in the valley floor.
(Overnight at Camp) Camp altitude 4,160 m
Day 8: Robluthang to Limithang: Distance/walking time – 14kms/ 6-7 hours.
A zig-zag trail takes us up to a ridge at 4,400m, with views over a wide glacial valley. Marmots abound in this area and are often seen popping up out of their burrows. On the climb up to the highest pass of the trek, the Sinche La, at 5,000 m, noble rhubarb, a high altitude Himalayan plant standing up to a metre tall, covers the hillside; a distraction from the final 300 m ascent to the pass.   Camp is in a cedar forest below the pass with a backdrop of Great Tiger Mountain.
(Overnight at Camp) Camp altitude 4,160 m
Day 9: Limithang to Laya village: Distance/walking time – 9 kms/ 4 hours.
We start with a walk through a forest, followed by a descent down to the river valley. With a shorter distance to cover today, we should arrive in Laya village with time to explore. Laya has retained its own unique language and dress, with the Layap women wearing a distinctive conical bamboo hat with a wooden pole protruding from the top.
(Overnight at Camp) Camp altitude 3,800 m
Day 10: Laya village to Koina: Distance/walking time – 16 kms/ 6 hours.
We say goodbye to the Layaps and make our way out of the village through a stunning forest, past an army camp, following the river valley. We have a series of climbs up and over spurs above the river.  We will either camp at Koina, where there is a basic stone shelter, or continue on for a short distance to a flat camp site on a ridge.
(Overnight at Camp) Camp altitude 3,240 m
Day 11: Koina to Gasa village: Distance/walking time – 12 kms/ 4 hours.
We have a final climb today to the Bari La pass at 3,900 m, before the long descent to Gasa village, with views of Gasa dzong and snow covered Kang Bum mountain.  We finish the trek at Gasa where our transport will be waiting for the 2 hour drive back to our hotel in Punakha.
Overnight hotel.