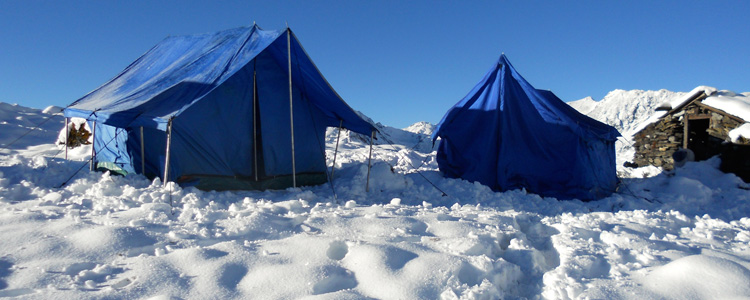 The Jomolhari Trek, easily accessible from Paro, is a great introduction to high altitude trekking in Bhutan.  The trek initially follows the Paro Chhu valley, to Jomolhari Base Camp, from where there are alternative exit routes, either returning to Paro or finishing outside Thimphu. The trek described below follows the route to Dodena, outside Thimphu and takes seven nights/eight days, with one rest day at Lingshi.
Please note that this trek involves some long days of walking and crosses two high passes. Detailed trek notes, with approximate distances and walking times, follow below. A good level of fitness is essential.
Day 1: Drive Paro to Shana.
Trek Shana – Soi Thangthangkha: distance/walking time 16 km/6-7 hours
We will drive to Drukgyel Dzong, a ruined monastery, now under reconstruction, at the end of the Paro valley. From there, we follow a farm road, through a narrowing valley of rice fields, passing many traditional farmhouses along the way. We meet our trekking crew and packhorses near an army outpost, at an elevation of 2,890 metres.
From the army camp, we follow the Paro Chhu valley on an undulating trail. Bridges, adorned with prayer flags, cross the river in several places. At a fork in the trail, keep right: left leads to Tibet.
The rest of the day's walk climbs gradually up through a dense forest. Just after a big chorten, we catch our first glimpse of Mt Jomolhari. Not far from here, the campsite is located in a clearing.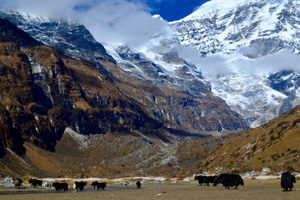 Camp altitude 3,575 metres.
Day 2: Soi Thangthangkha – Jangothang: distance/walking time – 14 km/5-6 hour
The day starts with a gradual climb through alpine vegetation, until the landscape opens up into a wide high valley.  There is another army check point next to the trail, where our trekking permit will be checked. We are surrounded by high ridges and snow-capped mountains all the way to Jangothang. We may come across yaks and yak herder camps and will pass through small clusters of houses.
Thirty to forty minutes, on a flat trail, after Dangojang, which has a small school, we will arrive at Jangothang. This is Jomolhri base camp, a flat meadow, overlooked by the ruins of an ancient dzong. Mt Jomolhari is an imposing, snow-covered presence, at the end of a side valley.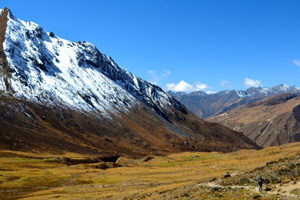 Camp altitude 4,040 metres.
Day 3: Jangothang halt
Today we will do a side trip, following the yak trails that weave along the sides of the valley, to the base of Mt Jomolhari.  Climbing to the top of the moraine, we walk along a ridge, overlooking the glacier that snakes down from the mountain. We often see herds of blue sheep, high on the ridges. Snow leopards have also been spotted in this valley. The walk to the glacier takes 5-6 hours return and we will have a picnic lunch on the way.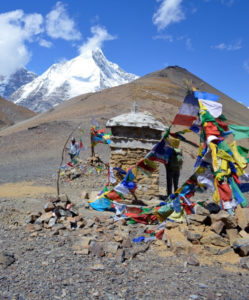 Camp altitude 4,040 metres
Day 4: Jangothang – Lingshi village: distance/walking time – 21 kms/ 5-6 hours
Leaving Jomolhari base camp, we begin with a short flat walk before a steep climb, into a high basin. We may see yaks and marmots along the way. The trail levels for a while, until the start of a long climb to the Nyile La pass, at 4,890 metres. We pass a chorten on an exposed ridge, before the final ascent to the pass, from where there are stunning views.
After the pass, there is a long, gradual descent into Lingshi basin. The vegetation is sparse and, as we approach Lingshi, there is a wide panorama across to Lingshi dzong, From a rise just off the trail, we look over Mount Tserim Kang and its glaciers to the north.
We camp next to the river in the valley bottom.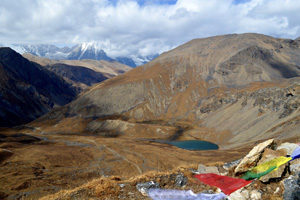 Camp altitude 4,150 metres
Day 5: Lingshi halt
Today is a rest and acclimatisation day. You may choose to relax in the campsite or explore Lingshi village, which is a short climb out of the valley, on a steep trail, opposite the campsite.  Not far from camp, up the valley, is Geu Goemba, a small temple tucked away on a cliff face, on the north side of the river.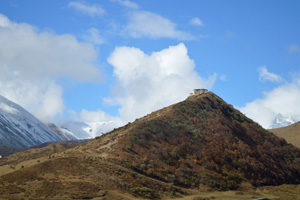 Camp altitude 4,150 metres.
Day 6: Lingshi – Shodu: distance/walking time – 22 kms/8 hours.
We begin today's trek with a half hour climb through rhododendron forest to a chorten, from where we look across to Lingshi dzong. We are now in a high valley, following the river and crossing several small streams along the way.
After a couple of hours, we cross the No Chhu and begin a steep climb into another high valley and then steeply up to the Yeli La, at 4,950 metres. Prayer flags and cairns mark the highest pass of the trek. From the pass, we look down on our route for the afternoon, an initial steep descent, past isolated lakes.
Once down from the pass, we have a long gradual descent, with several river crossings, before we reach a flat meadow, marked by a chorten. This is Shodu, our campsite for the night.
Camp altitude 4,080 metres.
Day 7: Shodu to Domshisa: distance/walking time – 22 km/ 7-8 hours.
From Shodu, we follow the river downstream on an undulating trail, past an abandoned military camp. Limestone cliffs rise up on either side of the valley as we walk through a beautiful forest and past several waterfalls.  It's a long, gradual climb to Barshong, a ruined dzong, close to a small village.
After Barshong, the trail descends steeply on a switchback trail through a mossy forest to the Thimphu Chhu. A little over an hour after leaving Barshong, we will reach our campsite for the night: a flat clearing next to the river.
Camp altitude 3,300 metres
Day 8: Domshisa to Dodena: distance/walking time: 17 km / 6-7 hours
We follow the river this morning, continuing through the forest, with some short climbs. Then it's a steep climb up to a pass, from where we can see the progress of a farm road being built towards Barshong. If it's wet, this section of the trail can be very muddy.
Our transport will meet us on the road, where we will farewell our trekking crew, before the drive back to the hotel in Thimphu.
Overnight hotel