Air travel
The only international airport, at Paro, in Western Bhutan, is serviced by Drukair and Royal Bhutan Airlines. Guests can fly into Paro from Bangkok, Singapore, Kathmandu, Dhaka and the Indian cities of Kolkata, Delhi, Bagdogra, Mumbai and Guwahati. Flights to and from Bangkok are the most frequent. Schedules change seasonally so check with us for more detailed information. Bespoke Bhutan Tours will take care of your flight booking to and from Paro. Business class seats may be booked for a small additional premium, subject to availability.
Note that flights into and out of Paro may be delayed due to local weather conditions. You should take this into account when planning your trip and, in particular, when arranging onward connections to your home city.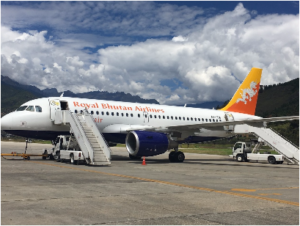 Entering or leaving Bhutan by land
It is also possible to enter or leave Bhutan via one of three land border crossings at Phuentsholing, Gelephu or Samdrup Jongkhar in southern Bhutan. Phuentsholing is located about six hours driving time from Thimphu, in south western Bhutan, while Gelephu is in central Bhutan and about ten hours' drive from Thimphu. For those wishing to visit eastern Bhutan, Samdrup Jongkhar is a convenient entry or exit point, with easy access to Guwahati in Assam.
Travel within Bhutan
By road
Travel within Bhutan is generally by road. There are no railways. The main highway runs from west to east, connecting all the major towns and villages. However, the mountainous terrain and winding roads restrict the average speed of vehicles to less than 40 km/hr, particularly in the east of the country. Bespoke Bhutan Tours use comfortable vehicles,  suitable for Bhutanese road conditions for all travel and sightseeing tours within Bhutan. For small groups, we use Hyundai Santafee, Toyota Hiace or Hyundai H1 vans. For larger groups, we use 18 seater and 22 seater Toyota Coaster minibuses. All our vehicles are well maintained and our drivers are trained and experienced on the Bhutanese road conditions.
By air
Drukair currently operates a domestic flight between Bumthang and Paro and expects to begin flying between Paro and Yonphula in eastern Bhutan very soon. For those guests wishing to travel to Bumthang or beyond, we suggest you consider driving in one direction and flying back to Paro, avoiding the long return drive.
Private helicopter charter is now available in Bhutan, subject to availability and weather conditions.