The Druk Path is one of the most popular treks in Bhutan, with relatively short daily trekking distances and beautiful scenery. In late spring, it is a great place to see mountain slopes covered in spectacular rhododendron flowers. The trek route follows an ancient trading path, crossing the chain of remote mountains that separate the Paro and Thimphu valleys.
The trek can be done, starting at Thimphu and finishing in Paro, as described below, or in reverse. The overall altitude gain is approximately 2,200 metres and the highest pass is 4,200 metres.   The distance covered is approximately 50 km, over five days. If skies are clear, there are stunning views of the snow-covered peaks of the Eastern Himalayas. The trek involves some steep climbs and assumes a reasonable level of fitness.
Day 1: Climb to Phajoding Monastery
We will drive to the starting point of the trek, on the outskirts of Thimphu where we will meet our trekking crew and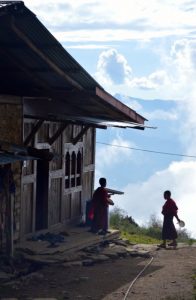 load our bags on to the pack horses.  The first day's walk is a continuous climb on a forest trail to Phajoding Monastery, at 3,640 metres. The monastery was founded in the 13th century and is an important pilgrimage site, comprising a number of temples, monks' quarters and meditation centres. There are stunning views across the Thimphu valley.
At a leisurely pace, we may take three to four hours to reach the monastery. We will camp nearby and visit some of the temples.
Camp altitude: 3,640 metres.
Day 2: Phajoding to Simkota Tsho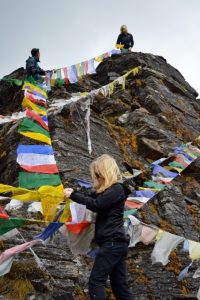 We begin the second day with a climb to the small meditation centre at Thujidrag Goemba, set into the cliff, 300 metres above Phajoding Monastery. We pass a cairn on a windy ridge and an ancient sky burial site. A rocky path brings us to Phume La (4,080 metres) and then to Labana La, the highest pass of the trek at 4,220 metres. We will put up prayer flags to give thanks for our arrival at the pass.
On a clear day, Gangkhar Puensum, Bhutan's highest mountain and the highest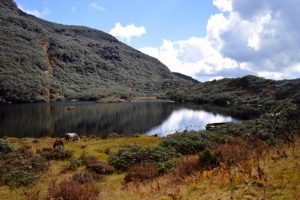 unclimbed peak in the world, is visible on the horizon.
From Labana La, we pass by several lakes, before climbing up on a rocky trail and then descending to some stone ruins and our campsite, close to Simkota Tsho. Walking distance is about 10 kms.
Camp altitude: 4,110 metres.
Day 3: Simkota Tsho to Jimilang Tsho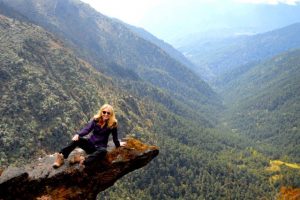 We begin the day with a climb to a ridge and an undulating trail which reaches a crest at 4,050 metres.
At a rocky outcrop, enjoy views across forested valleys, before reaching a small pass and beginning the descent to the campsite near the sacred lake, Jimilang Tsho.
Waking distance – 11 kms.
Day 4: Jimilang Tsho to Jangchu Lakha/Tshokam
Jimilang Tsho is the most northerly point of the trek. Today we turn south, towards Paro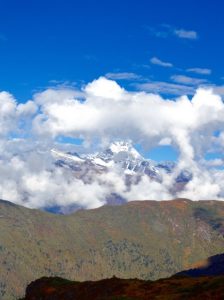 .
We walk for some time along a ridge and cross several small passes. On a clear day, there are views of Mt Jhomolhari and other snow-capped peaks.
Our campsite is in an open meadow, known as Jangchu Lakha.
Camp altitude: 3,760 metres.
Day 5: Jangchu Lakha to Paro Valley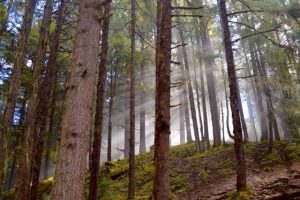 Today is our last day on the Druk Path trek. We begin with a short climb, through a forest where the trees have fallen victim to bark beetles, before beginning our descent through rhododendron and pine forests.  We will visit the ancient Jele Dzong, a monastery dating from the fifteenth century which sits on a hill overlooking the Paro Valley.  The temple here contains a large statue of Shakyamuni.
From Jele Dzong, it is a continuous descent through forest of blue pine and fir, past an old mani wall, to the road. Here we will say farewell to our trekking crew and meet our vehicle for the drive back to our hotel.
Overnight: hotel